Laura Secord hot Chocolate-Caramel Pops
Ingredients
2 Laura Secord Hot Chocolate Mix K-Cup pods by Keurig (2 other favours available on Keurig website https://www.keurig.ca/beverages/hot+cocoa/c/cocoa101)
Caramel Chips
Chocolate Chips
⅓ cup vanilla Greek yogurt
4 squares (about 30g) Laura Secord Dark Chocolate 50% Cocoa Bar
2 tbsp chopped pecans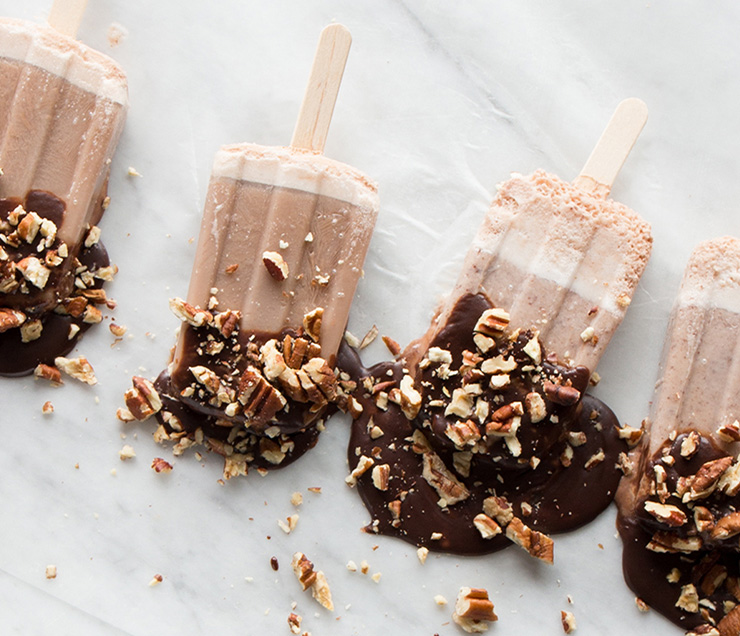 With your Keurig coffee maker, brew 2 Laura Secord Hot Chocolate Mix K-Cup pods in the 8 oz. brewing format and refrigerate for 30 minutes.
Drop chocolate and caramel chips in the bottom of the molds and add the liquid.
Freeze for 2 hours.
Wedge in sticks and return to freezer until completely frozen (4 to 6 hours).
In a bain-marie, melt squares of Laura Secord® Dark Chocolate 50% Cocoa Bar.
Run molds under warm water to release the frozen treats.
Place pops on parchment paper; cover tops with melted chocolate and sprinkle with pecans.
Return to freezer for 30 minutes. Enjoy!