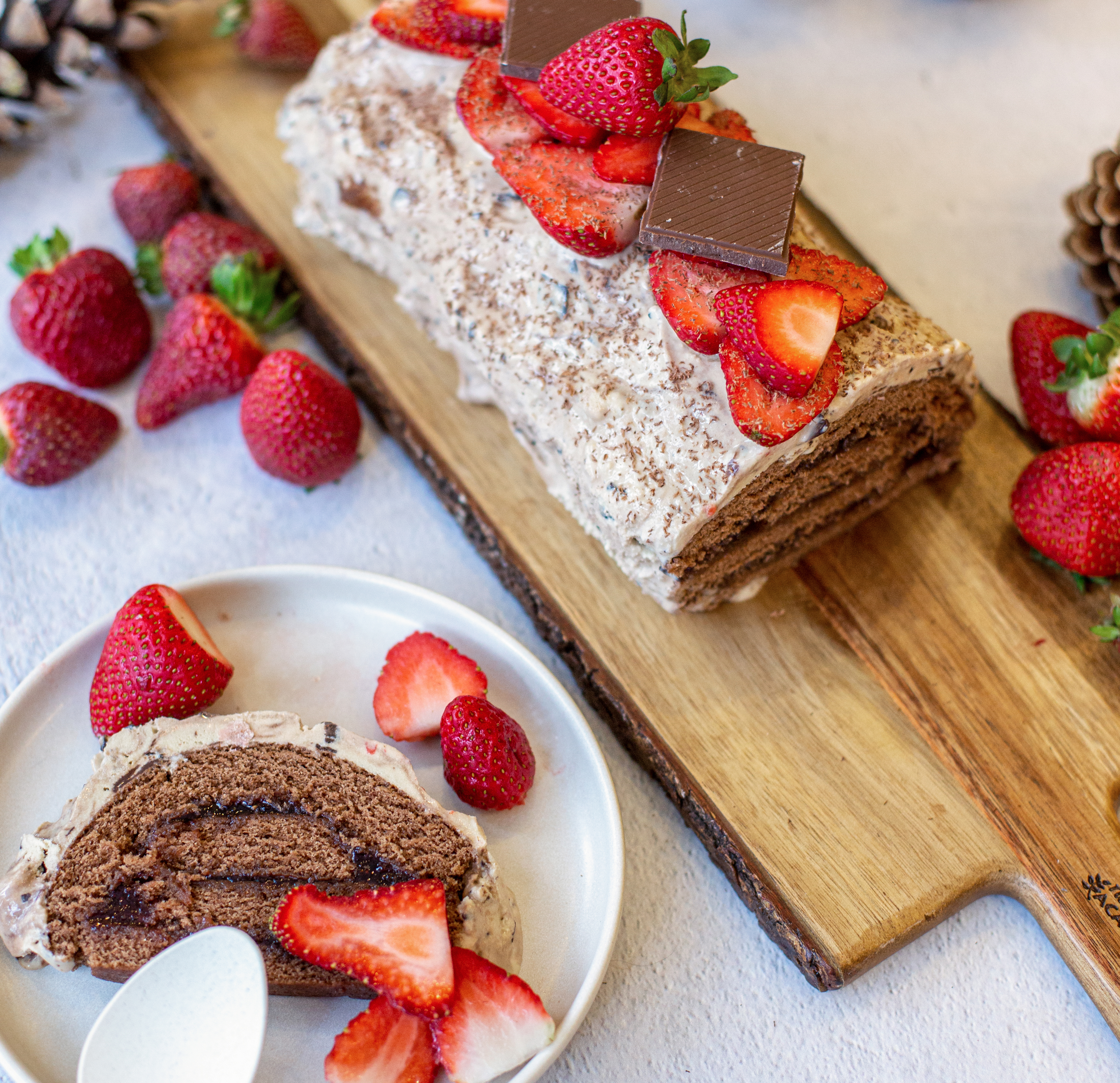 Ingredients:
¾ cup of flour
30 ml of cocoa powder
¼ tsp. baking soda
pinch of salt
Maple Crunch Laura Secord 40 g bar
2 eggs (whites and yolks separated)
1 cup of sugar
30 ml of butter
1 tsp vanilla
½ cup of milk
About ½ jar of Laura Secord strawberry jam
About ¼ cup of icing sugar
Fresh strawberries for decoration
1 liter of Laura Secord ice cream of your choice
1 Laura Secord 100 g chocolate bar of your choice
Steps:
1. Preheat the oven to 350F
2. In the first bowl, sift the flour, cocoa powder, baking soda and salt. Reserve.
3. In the second bowl, beat the egg whites until stiff, then add ½ cup of sugar to obtain stiff peaks. Reserve.
4. Melt the chocolate bar in a bain-marie.
5. In a third bowl (and the largest), beat the egg yolks, add in the other ½ cup of sugar, the butter, the melted chocolate and the vanilla.
6. Gradually add the dry ingredients and the milk alternately. Slowly fold the egg whites in the dough at the very end.
7. Place the mixture on a baking sheet lined with buttered parchment paper and spread the dough evenly to make a 10 X 14 inches rectangle.
8. Bake for about 10 minutes, or until a toothpick inserted in the center comes out dry.
9. Turn the dough onto parchment paper previously dusted with icing sugar. Leave to cool for 1 hour with the 2 parchment papers.
10. Gently peel off the first parchment paper from the top. Without removing the papers, turn the cake over and completely remove the second parchment paper.
11. Spread the strawberry jam on the cake then roll gently to form the log.
12. Let the cake rest in the refrigerator before spreading it with the ice cream
13. Coat cake with softened ice cream and put it in the freezer. Decorate with strawberries and pieces from the 100 g chocolate bar before serving. Enjoy!