Dark chocolate and raspberry cheesecakes
Ingredients
Rose petal decoration
1 red rose
1 egg white
Sugar
Crust
1 cup of crushed chocolate cookie crumbs
¼ cup of melted butter
Filling
1 pkg (250 g) softened creamcheese
¼ cup of sugar
2 eggs
Raspberry jelly
1 cup frozen raspberries
¼ cup of sugar
1 pack of plain gelatin (15 g)
100 ml of hot water
| Servings | Cook time | Prep time | Standing time |
| --- | --- | --- | --- |
| 6 | 25 minutes | 30 minutes | 12 hours |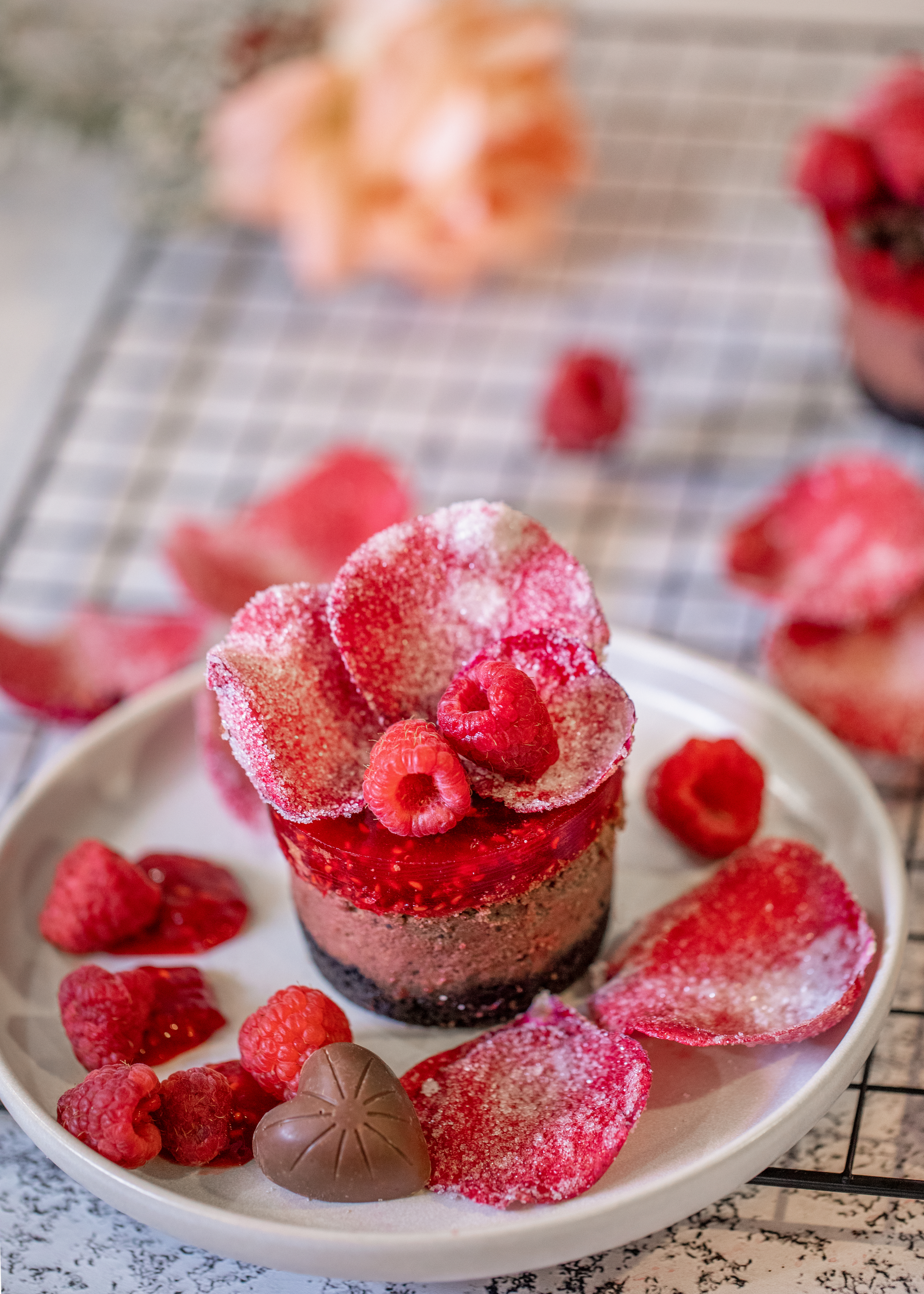 One day before (for rose petal decoration)
Beat white eggs slightly.
Brush with the egg white one petal at a time on both sides.
Delicately sprinkle the sugar to completely coat the petal and place it on a wire rack.
Repeat these steps for all the rose petals. Let stand in the openair overnight.
Cake preparation
Preheat oven to 350 F.
Grease a large muffin silicone pan (6 cups of ½ cup capacity each).
Combine the ingredients for the crust and divide evenly between the moulds (about 2 tbsp each). Press well with the back of a spoon or fingers.
Bake for 7 minutes in the oven and let cool.
Beat the cream cheese with the sugar then add the eggs one by one.Incorporate the melted chocolate.
Distribute the filling mixture evenly over the crust of each cavity.
Cook 12-13 minutes and let cool at room temperature for about 30 minutes then place in the refrigerator for about 2-3 hours.
In a small saucepan, add the raspberries and sugar. Heat over medium heat so that the raspberries turn to puree.
In a small pot with 100 ml of hot water, add the gelatin pack, mix well and let stand 2-3 minutes.
Remove the raspberries from the heat and add the gelatin mixture.
Let cool slightly before placing the raspberry jelly on the cakes. Pour over the cakes up to the rim of the moulds, then place backin the refrigerator for about 2 to 3 hours.
Once the cakes are cooled, unmould them and then decorate them with the crystalized rose petals.